Most graduate schools are places where a lot of research happens, and with it research spending. It's pretty interesting to poke around in the HERD data from time to time to take the temperature of the overall ecosystem. HERD is the National Science Foundation's survey of University R&D activity, and is something the NSF has tracked since before the days of Sputnik. #timeseries
In 2015 over 900 institutions in the US reported a collective Science and Engineering R&D spend of just over $65 billion, the highest ever. (I'm graphing only S&E R&D spending, rather than all R&D spending, because its a longer time series and because it dwarfs (by about 20-fold) the non-S&E research that happens at universities….NTTAWWT.)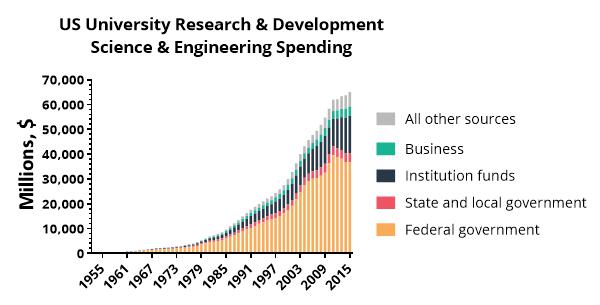 Three things jump out at me from that graph. First, research spending at universities has increased almost 10 times since the early 80's to the present. That's a lot. I mean, these universities are very, very different organizations compared to when the parents of today's graduate students were in college.
Second, federal dollars are the lion's share of university R&D spending and always have been. The running average over the last several decades is 63% of university research spending is on federally-funded projects. That's a lot.
Third, some leveraging is going on here, in one direction or the other. Either the federal dollars are leveraged to drive other sources for research spending, or the latter are leveraged to attract more federal dollars. My money is on the latter.
Although the total R&D spend at universities is higher then ever, the spending of federally-sourced dollars by universities continues its unprecedented slide from a peak in 2011, where it was over $3 billion higher than in 2015. This is worrisome trend, and more worrisome given the chaos in Washington today.
Given these big decrements in the federal money source, what explains peak research spending in 2015? Institutional funds within universities! Meaning, yes, those big endowments are being put to good use.
In 2015 universities financed a higher fraction of their R&D cost than they ever have before, more than accounting for the loss of federal funding.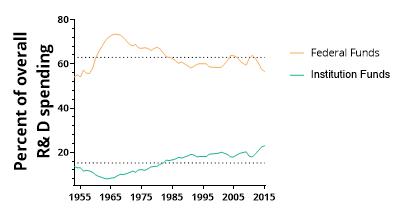 In 2015 over 25% of R&D spending was actually from institutional money. That's a full 8 points higher than their running average contribution of ~17%. Meanwhile, at a 56% share, spending of federal dollars at universities hasn't been this low since…before the days of Sputnik.
It's also worth pointing out, almost as an aside but not really, the comparitively low fraction of R&D spending at universities attributable to state funds and to corporate activities. Simply put, state governments and corporations are not major investors in university R&D activities.
In various conversations I've found that business people are shocked by this, and typically assume the opposite is true…that states spend too much of their taxes on universities, and that corporations fund universities deeply.
Neither is true. Our universities are federal institutions.
I presume the relationship between federal and institutional research spending is less about taking control of one's house, and more reflects an age-old pattern of hunt and parry, as Steinbeck might say. Institutional funds seem to function as a buffer mechanism.
University institutional spending looks a lot like it rises and falls against the waning and waxing of federal funds. Universities need to run on more predictable budgets than allowed for by a strict dependence upon the sometimes helter skelter pattern of federal funding. Internal funds pick up the slack when necessary.
Over almost 6 decades, it is almost as if universities have operated with every right to expect it will always be done this way. The only questions are how long can universities sustain a waning federal support for their research mission? Will this plug-the-gap mechanism handle a catastrophic reduction in federal research dollars?
This may be tested shortly.