It's been over a decade since New York Times columnist Thomas Friedman famously declared that the world is flat. One thing is clear, the inexorable march of globalization is built upon a framework of diplomacy and international relations, a career specialization that demands graduate level training. Gradschoolmatch founder TJ Murphy recently sat down with Daniel Kristo, the Director of Graduate Programs at Seton Hall University's School of Diplomacy and International Relations to learn more about the niche.
TJ Murphy: Thanks for sitting down with us to discuss how your graduate programs might fulfill the interests of people looking into careers in diplomacy and international relations.
Daniel Kristo: Thank you for the opportunity.
**TJ Murphy**
: I'd like to start by asking who, exactly, is the type of person who should be looking at your programs, in terms of their career interests and academic backgrounds?
Daniel Kristo: We are asked this question frequently.  The simple answer is: "there is not one unique profile that fits all" as the School of Diplomacy attracts a diverse candidate pool.  Last year alone we invited graduate candidates from 17 countries and from 20 US states.
Applicants to our graduate programs come from over 60 undergraduate majors…not just 'political science' or 'international relations'.  About 50% of our incoming class has more than two years of professional experience post-Bachelor's degree.  The School also offers dual graduate degrees that combine 'diplomacy' with business, law, communication, public administration and Asian studies; these additional options attract students from various walks of life.  
**TJ Murphy:**
Where are your program graduates heading off for work?
Daniel Kristo: Many perceive 'diplomacy' in direct correlation with careers in government or at the United Nations for instance.  However, our alumni outcomes show that diplomacy and international relations has a wide range of applicability in the field in all three sectors…in terms of sectors, 40% are in the private, 22% are in the public and 38% are in non-for-profit.   
Our most recent graduating class listed the following top employers: U.S. Department of State, the Permanent Mission of Japan to the United Nations, the New Jersey Office of Homeland Security and Preparedness, Amnesty International USA, the NGO Working Group on the Security Council, the Drug Policy Alliance, Booz Allen Hamilton, JP Morgan Chase and Chemonics International.   
TJ Murphy: I think most of us can imagine how diplomacy specialists might operate in public and non-for-profit, but what about in the private sector? Can you provide an example or two of the kind of work your private sector graduates do?
Daniel Kristo: Sure. The private sector offers various paths.  One of our MA specializations is 'International Security'; students with an interest in this specialization often gravitate toward a career path in intelligence.  There are various private companies like Booz Allen Hamilton (BAH) who value our student profiles, since often BAH contracts with government agencies on defense projects that may even require security clearance.
We see an increasing interest in 'country risk' as large insurance agencies have specific divisions that provide country risk assessments.
Other examples include Marsh International (Public-Private Partnership Development), CNN (News/Research), Reuters (Business Development) and more.
"Your program seems to put a great deal of effort into career development. That's a key signal of a student-centric program culture, which I applaud loudly."
TJ Murphy: What kinds of projects might your graduates work on while employed by a firm like BAH? Analysts? Problem solvers? People in the field?
Daniel Kristo: Analysts work in intelligence analysis and project management that often are confidential in nature. Key skills that are valued include: effective writing, research analysis, data interpretation and the ability to translate data intoeffective communication tools in a concise manner.
TJ Murphy: So the program curriculum is focused on building core competencies in those areas?
**Daniel Kristo:**
Exactly – our MA curriculum, for instance, incorporates a research methods course to help students develop effective quantitative and qualitative research skills that are needed throughout the graduate program and beyond.  Professors are keen on developing students' writing skills.  Professors even stimulate students to write op-ed's and publish them as individual authors or as a members of a team.  Students have taken advantage of the faculty mentorship; they have successfully published in various outlets, including: International Policy Digest, PassBlue and more. MA candidates are also required to complete at least one internship course, with the option to add a second internship.  These efforts are facilitated by our
[
Director of Internships and Career Development
](https://www.youtube.com/watch?v=4FdJX_sNMRY)
.
To date students have interned in more than 600 internship partner institutions in 67 countries around the world.  Students truly have the platform to apply their in-classroom knowledge and test it in a real-world environment.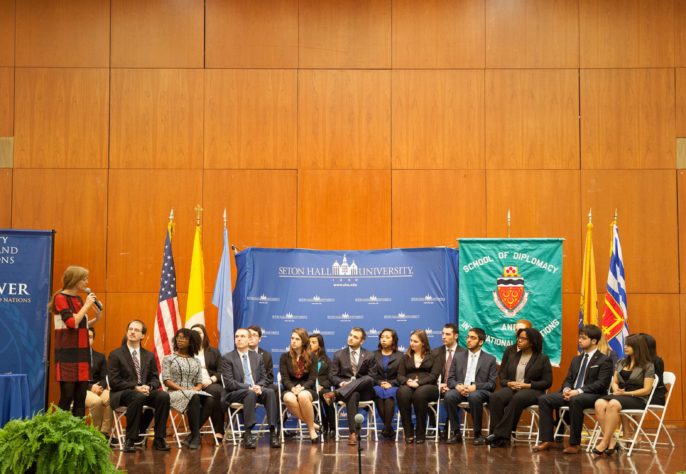 TJ Murphy: It's hard to be in graduate school–no matter the field–and avoid opportunities to deepen one's writing and analysis chops.  Your program seems to put a great deal of effort into career development. That's a key signal of a student-centric program culture, which I applaud loudly. What's driving you guys in this regard?
**Daniel Kristo: **Thank you for the comment and great question. Overall the MA in Diplomacy and International Relations is tailored to prepare candidates for the real world, although a small percentage continue on to pursuing a PhD program in a related field. The driving force is two-fold: (1) personal attention is something that we pride ourselves on since the founding of the School, which is the first school in international relations to be launched after the Cold War; (2) the market indicates that employers value a candidate with professional experience vs. one who was entirely focused in academia.
TJ Murphy: But it takes effort–and resources–on the program's part to build a career development ethos and infrastructure. I get that employers like what they like. My question is why are you guys delivering? Why did this become important to you?
Daniel Kristo:  In addition to our values-based long-standing culture, the School's intimate size allows us to deliver on our commitment to personalized service – with an average classroom size of 15 students, there is a much more dynamic interaction between students and professors.  
I mentioned earlier that our Director of Internships and Career Development works one-on-one with students to help develop their professional profiles during the program, while our Director of Professional Services is someone who students get to know as they finalize their post-graduation plans.  
The idea of the internship is to 'test the waters' and see if you are compatible within an industry that you thought you were interested in from the beginning.  For some students the internship experience serves as a validation; they will continue to work in the same field or will change gears and try something different.  The ability to have an existing platform that allows that kind of experimenting is a plus.
**TJ Murphy: **Rotation models are common for doctoral programs but that's fairly unusual for master's programs, where the dominant model in graduate admissions is for a student to differentiate BEFORE enrolling. That flexible method of student development is unusually student centric.
Daniel Kristo: We cater to our graduate audience, which again is a diverse one.  We do have candidates who apply with less than two years of experience and come from that BA-to-MA transition; in which case we do ask for a sense of clear direction – that will be developed further during graduate studies. Our MA program offers 13 functional and regional specializations – students are required to choose two out of 13. By specializing within the MA program, students are developing a niche that will distinguish them from other candidates when making the transition to full time employment post-graduation.
TJ Murphy: I see your enrollment is about 110. How are they distributed between your various degree programs?
Daniel Kristo: 90% of the graduate class consists of MA candidates as our graduate certificates in United Nations Studies and Post-Conflict State Reconstruction and Sustainability (online program) were launched in the last couple of years. We do not offer a PhD program.  However, I am happy to announce that the School is launching a new Executive MS program in International Affairs catered towards a more mature audience, experience wise. Also, in collaboration with the Seton Hall School of Health and Medical Science we are launching this fall 2016 semester a graduate certificate in Global Health Management.
"I advise applicants to describe previous accomplishments, future career goals and why they believe the MA program will serve as 'a bridge' between the two."
TJ Murphy: And you use a rolling admissions process, is that correct? Again, a student-centric device. Perhaps you'd like to explain briefly how that works for you?
Daniel Kristo: Overall we offer rolling admissions with preferred deadlines of March 31st (for fall entry) and October 31st (for spring entry) – the deadlines correlate to our scholarship opportunities, which are merit-based.
**TJ Murphy:  **So the best advice is to apply early to have a shot at these scholarships?
Daniel Kristo: Yes!
**TJ Murphy: **Perhaps you can explain your application process and your role. Most people just beginning their graduate school search don't really understand how the process works, or why the people who run the program really want to reach out and communicate with prospects.
Daniel Kristo: As the Director of Graduate Admissions my job is to work closely with applicants in putting together a competitive application prior to presenting it to the admissions committee. 
We ask for a 1-page, less than 500 words statement as it forces the applicant to write in a concise manner.  The statement serves as a writing sample as well, therefore it needs to be a meaningful well-written piece.  There are various ways to approach the statement.  Typically, I advise applicants to describe previous accomplishments, future career goals and why they believe the MA program will serve as 'a bridge' between the two.
**TJ Murphy: **I'm sure applicants would learn the value of concise writing if they first had to read a bunch of applications! Haha! Sorry, that's an admissions committee insider's joke.
What's most interesting in all of that is how you describe your role: "to work closely with applicants".  Too few of the people who are considering graduate programs understand our role is to help them be stronger candidates. They don't do themselves any favors by not reaching out ahead of deadlines.
**Daniel Kristo: **As a former graduate student, I understand the journey of researching and choosing the right graduate program.  Because of this understanding, it comes naturally to provide as much value-added information which helps applicants make an informed decision.  The rewards are many – I do get to meet fascinating individuals with impressive yet touching backgrounds.
TJ Murphy: This has been very thorough and I'm sure it will prove to be a great resource for people considering graduate school opportunities in Diplomacy and International Relations. We see some data on Gradschoolmatch that points to fairly high interest in "international" fields of study. I have just one last loaded question:
**Daniel Kristo: **Yes?
TJ Murphy: I imagine that climate change will drive a lot of international conflict in the coming decades as nations react to a world of changing resources forced by environmental shifts. Does your School see the same?
Daniel Kristo: Yes!  
Seton Hall University has been acknowledged by Washington Monthly as a top university in the US for 'contributing to the social good', which is in alignment with our mission and work here at the School of Diplomacy.  
The School of Diplomacy is
[
a strategic partner of UNA-USA
](http://www.shu.edu/diplomacy/un-community.cfm)
, now part of UNF (United Nations Foundation).  Together last year, as the United Nations turned 70…and prior to the UN Climate Change Conference we hosted a presentation led by our own expert,
[
Dr. Philip Moremen
](http://www.shu.edu/profiles/philipmoremen.cfm)
, who specifically covered this question and other related topics. Climate change is affecting various areas of human life…from economic to population shifts…to raw materials/resources' scarcity – such challenges require a deep understanding of local markets and the global impact. We are proud to prepare servant leaders who possess both skills of service and leadership; it is our goal to continue to enhance the learning culture that is in sync with changing landscapes at the global level.
This year we are launching a new scholarship initiative, which will enable candidates from around the world to submit a 'challenge' proposal in the context of the United Nations Sustainable Development Goals (SDG's).  This is a great opportunity for prospective students to come up with practical solutions in response to global challenges.   The idea is to reward student recipients for innovative thinking and help them further develop their ideas during their graduate studies under the mentorship of faculty members and/or senior administrators – stay tuned for more details.  

TJ Murphy: It sounds like people can launch very important and fulfilling careers from your graduate program. Hard to do much better than that. Thank you so much for sharing your time with us today.
Daniel Kristo: Thank you for the opportunity TJ; we value the Gradschoolmatch.com platform and the high quality students we have had the pleasure of interacting with.
TJ Murphy: Trust me, it is gratifying to learn about programs such as yours, and the important role they play.  if Gradschoolmatch introduces you and your program to that one person who someday prevents some big nasty international conflict, I'll be very fulfilled.
Daniel Kristo: Let's hope so.
For more information about the School of Diplomacy and International Relations, visit their website, or follow them on facebook and twitter.