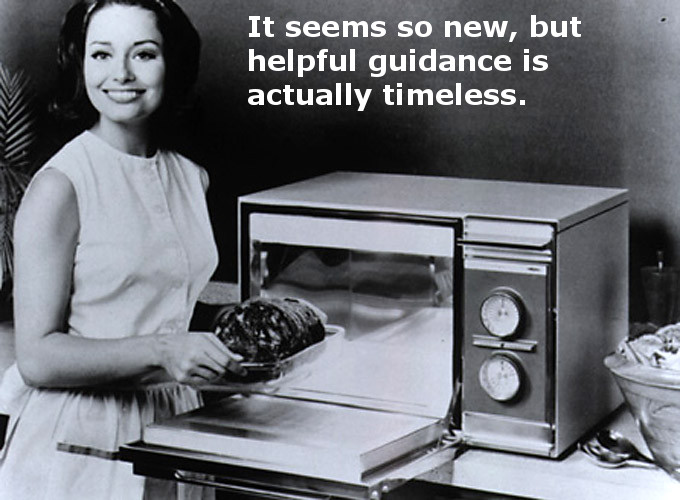 I'm not only old enough to remember the first microwave ovens, I'm old enough to remember that they were called radar ranges. Ack! But these machines have been on my mind since the early days of the Gradschoolmatch project.
Our goal was to do what we have done: create a space where guidance happens. The conceptual premise is based upon observations that interactions with someone knowledgeable is how most people end up choosing where to attend graduate school.
At one early point we were advised by an insightful businessman that in Gradschoolmatch we may have another microwave oven story on our hands.
Briefly, in the early days, people were reticent to adopt the microwave because they had perfectly good stoves and ovens with which to accomplish the same result. Sales only grew after the microwave manufacturers were able to convince consumers that microwave cooking could be effective, not to mention quick and convenient.
A similar friction probably exists in the graduate school recruiting space. The old way of doing things is to hope enough applications fly in over the transom and that enough of them are good. At the same time, everybody agrees the status quo is crappy. Really good prospects struggle to find the right place and need our help. Many of them end up in the wrong programs. Meanwhile, seats in really good programs go unfilled.
All of the evidence indicates that one-to-one engagement with prospective students is the driver of better matriculation rates. Still, there is a lot of skepticism that something novel and innovative, like Gradschoolmatch–which promotes one-to-one engagement between programs and prospects–can be a solution.
Here are the most common reactions we get from people, and our responses.
"I don't know how to recruit."
You don't have to. Just offer guidance to someone considering an advanced degree in you specialty. That's actually very effective recruiting because you know everything about what they are looking for.
"We have a perfectly good program website."
Great program websites are only useful when the prospects you want find them. Still, they are no replacement for the human touch.
"We have plenty of applications."
Matriculates are more important than applications. Meanwhile, how many do you lose to other programs in your specialty?
"I don't have enough time."
Think of guidance as immunization against dropoutitis. You'll spend far more time on dealing with the latter.
"Our faculty won't get involved in recruiting."
Did they ever have a tool that makes engagement with prospects and offering guidance so easy?
"We just buy email lists."
The people receiving your spam don't like spam any more than you like spam.
"Does it work?"
Absolutely. When used the way it is designed.