Previously on Gradschoolmatch, users could log in, find what they are looking for and even communicate, but never had a sense of the constant, ongoing interaction between other students and the programs elsewhere on our platform.
With new updates to the Gradschoolmatch.com, including an interactive news feed, the dynamic nature of the interactions between programs and student prospects is more visible and engaging.
We're excited to offer the first iteration of our infinitely scrolling news feed, similar to those that could be found on many popular social networking sites. When a student or program administrator logs into their Gradschoolmatch profile, on their home page they will see a continues feed that updates as the site is used by others.
Students will be able to see when other students on Gradschoolmatch bookmark a program, when a program bookmarks a student, and when a student or program updates their profile. The news feed has already become another node on Gradschoolmatch where active exploration occurs. Whether you are a student or director, the news feed can point you to users who are active and engaged.
Users can filter their news feed by academic field; for example, students can see all activity on Gradschoolmatch.com, or only look at activity from students and programs in a specific field that interests them, whether its Architecture or Engineering or something else.
Take a look at the new and improved news feed feature on Gradschoolmatch!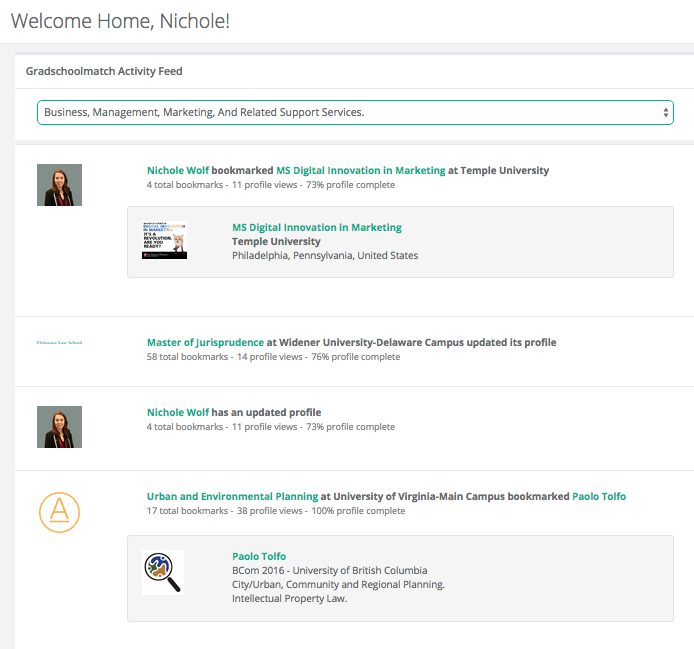 Make sure to fill out your profile as completely as possible to ensure that you're getting the best, most relevant matches. In the upper left corner of your student profile, you'll be able to see your percentage of profile completion; the more information, the better your matches! When you make an update to your profile, other prospective students on Gradschoolmatch will be able to see your updates and view your profile.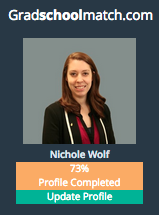 Check out the "Things to Do" section of your profile on the top right to view your matches, search for programs, and take a look at the programs you've bookmarked. Don't forget to read more articles on the Gradschoolmatch blog for tips and tricks on navigating the application process and succeeding in grad school!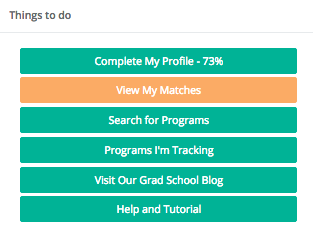 Like the look and feel of our news feed? Get started searching for and matching with over 30,000 graduate programs on Gradschoolmatch today!