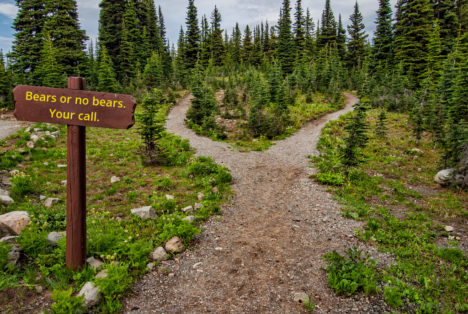 I've just returned from a long overdue break out west, spent in part on the streams and trails of the spectacular Absaroka wilderness area in Wyoming's Shoshone National Forest. I intended to unplug from the grid completely and not consider work at all, but the mind doesn't always cooperate.
On trail one day a thought suddenly struck me: Choosing a grad school program, at one level, is the same problem a traveler in unfamiliar territory faces running into a forked path.
I admit this metaphor is not particularly novel. But it serves as a handy launching point to think through the extraordinary problem students and graduate programs face every application cycle.
How do you go about choosing a grad school program that is right for you?
The decision on the trail is pretty simple compared to what our future graduate students face. On the trail, typically only two options are at hand…left or right.
Still, there is always a sense of apprehension and uncertainty. Left might take you up a hillside occupied by a momma grizzly bear lording over the valley with her cubs, whereas right might take you down to that cool stream full of big trout.
The only possible error is one of commission–choosing the wrong path under the worst case could take you to a very large unwelcoming bear, or under the best case to a missed fishing opportunity.
In a couple of key aspects prospective graduate students are faced with a far more challenging problem than a hiker. Far too many make errors of commission. But the main problem is the sheer scale of options. For a given academic specialization, a solid prospect could find anywhere from several dozen to hundreds of different graduate programs that would make sense.
That's a lot of possible paths. Too many.
Their set size is so large that students can't possibly consider them all. In fact, they miss knowing about nearly all the programs that would fit them well.
Instead they end up focusing on only a handful of programs, constructed partly on the basis of guidance from people they know, many of whom have no particular direct expertise in advising which programs might be better for them.
These students are making a second type of error, one of omission. Omission errors are so large that they are far more likely to completely miss the right program than they are to apply to the wrong one.
Consider a student that might be expected to fit, logically, within 100 different programs. The typical student will only research 8% of them, and then apply to only 4%.
They overlook 92% of the programs that would otherwise fit.
What all of this means for graduate programs is not all that complicated. To create a stronger applicant pool will involve getting more of the right people who don't know about your program to take a look at it. And then offering them a touch of expert guidance while you have their attention.
That's where real opportunity to move the needle lies.
The Gradschoolmatch solution
First, we simplify the exploration set for students while equipping programs, for the first time, with the ability to seek out the kinds of prospects they prefer for their program. We show the right programs to the right students. And vice-versa.
Our match algorithm suggests the right programs for students to consider, while also creating lists of prospective students for programs. This is all on the basis of the information each puts into their Gradschoolmatch profiles. The better the information each provides, the higher quality fits that we are able to generate for you and them.
That's precision.
Next, our communication functions offer prospects and programs alike a way to express interest in each other.
Programs perform the essential task of informing those who they see as the the right students that that their program exists.
Meanwhile, students can express interest in programs to see if they are a fit. The exchange of interests is bidirectional. For programs and students alike all of this happens with a single click of button.
That's simple.
Perhaps the most common feedback we hear from student users is their surprise to discover good programs they had not previously considered in places they weren't looking. Going further, these programs can offer guidance to prospects.
How? Rather than composing a canned marketing message, try something powerful in its simplicity.
Send a message such as: "Here's my program, take a look because your background and interests seems like we might be a good fit for you. And please let me know if you have any questions."
That's human. That's word-of-mouth. And that's something that happens all of the time in the hallway, on an elevator or out in the courtyard.
Now it can happen on the internet.
That's effective.
Guiding prospects, not marketing to them, is the secret to recruiting success
When contemplating a proactive recruitment strategy here's a few things worth knowing about your target.
Future graduate students are about to make a huge decision. They've arrived to a point in their lives where they are staking their career trajectories on this graduate school choice. What they don't know makes them apprehensive. They struggle with the decision. They don't want to make a mistake. And they are leery of being exploited.
Also, it should go without mentioning that their appetite for intrusive banner ads, blinking sidebars and spam is no greater than yours. In fact, millennials use ad blocker software at higher rates than any other demographic.
Finally, they use a variety of specialized apps to find information and communicate in myriad ways.
Rather than wasting your resources on inefficient and impersonal advertising, or barging into their social spaces, you should consider ways to leverage your expertise in your academic specialty and graduate program culture.
The students who you want in your program are doing a lot of homework, grinding over a big decision, and slowly discovering that's the help they are looking looking for! Guidance is something of value that only you can offer them.
Spotting the right prospects and offering guidance is a distinguishing feature of Gradschoolmatch.
Alyssa's simple but powerful story is one of successful guidance, not marketing.
She found her perfect match at Vanderbilt University in no small part because Dr. Beth Bowman was there, on Gradschoolmatch, at the other end to not only spot Alyssa but also offer her the guidance she needed and deserved.
By the way, while in the Wyoming wilds we managed to take the correct path each and every time.
Not because we were lucky.
We had hired a local guide whose knowledge of the trails was so deep, he probably could have led us blind-folded. He may very well have. I was lagging too far behind most of the time to see him.