No one wants to make the wrong choice, right?

Maybe not, but most people *don'tknow when they're making the wrong choice.*
Many grad school applicants don't take this decision seriously enough, or realize how much will be affected by choosing the right (or wrong) program; the difference between good, better, and best is much more than just a few different experiences and a different friend group.
All programs can lead you to a degree, but not all programs will provide you a pleasant graduate experience, lead you to your dream career or take you down the right life path. 
Whether you consider this decision big or small, the truth is choosing the right graduate program will have a HUGE impact on your life.
Allow me to illustrate this point further. The difference between a pretty good choice and a GREAT choice could mean:
Entering a cohort of people you can tolerate in small doses vs. becoming part of a group of people you enjoy personally and grow with professionally

Struggling through a program that just meets your criteria vs. feeling supported and thriving in a program that feels tailored to your goals and aspirations

Spending frustrating years working on furthering someone else's research vs. building a foundation of research skills you'll need for a successful career after graduate school.
Choosing a program may feel like a multiple choice question where any of the answers could be right, but this is sadly not the case. Though two schools may not look very different on paper (or on websites that all start to look eerily similar), they definitely are in practice.
You might wonder why you should listen to me (and it's good to be skeptical about these things).
I graduated from the University of Michigan in 2016 with an MBA and a Masters in Science after applying to ten graduate programs. Yes. TEN. So, you can probably imagine how hard it was for me to make my final choice.
I read every blog post available and talked to anyone that would listen. I found a lot of things I read to be unhelpful, and I think they were all missing the things I've outlined below. And to be perfectly transparent, I LOVED my time in grad school and I wouldn't trade my three years in Ann Arbor for anything.
But, first things first – a HUGE congratulations is in order!
You'll have to excuse me, I forgot my manners for a second. Getting accepted to a program you've worked SO hard to apply to feels amazing, so make sure to savor that for a minute. Go ahead and do that, even if you've already celebrated it. (Don't worry, I'll be ready with some advice for you when you're done).
…
Now that you (and Leo) have adequately celebrated this momentous occasion, it's time to get down to making your big decision. The sad truth is that 25% of current graduate students are unhappy with their choice. You worked tirelessly to apply and get in and made a big choice to improve your future, but did you ever consider that this could actually make you UNhappy? No one really tells you that it might not work out the way you had hoped, so I want to help you think this through properly.
Spoiler alert: this will not be a traditional "how to decide on a grad program" blog post.
I won't outline how to think about cost, location, etc in a very logistical way in this post (there are enough of those out there). We're here to help you think through some things that the sad 25% probably overlooked in making their choice.
**No pressure, though. We've got your back. **Here are a few things to keep in mind as you make your big decision.
1. Location and cost matter, but only to a certain extent.
We'll start off with the more obvious factors here. The location of a program definitely matters since it will affect the next 2-7 years of your life (depending on your degree of choice).
If you're a California native moving to notoriously wintery Michigan (Go Blue!) in pursuit of your graduate education, you may have to learn a few new life skills (like I did). Of course my choice to live in Michigan for three years shaped my graduate experience, from learning to drive in the snow to picking up new (indoor) hobbies to buying a much more winter-friendly wardrobe. I made sure before going there, though, that it would not necessarily affect my post-grad school aspirations in terms of geographic location.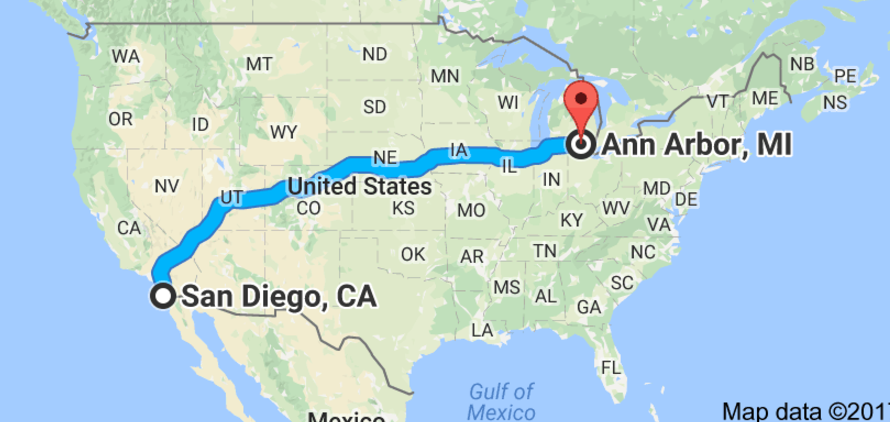 Before enrolling (and moving my life across the country to "The Mitten"), I spoke with current students, graduates, and the career services office to make sure that the alumni network and recruiting opportunities spanned the entire country (and globe). So yes, where you go matters in terms of how you will experience graduate school, but it does not necessarily mean you'll need to spend the rest of your career (and life) in that location.
On the other hand, if you're hoping to move into a very niche industry or hoping to start a career in a new location, attending a program  in that place or near the epicenter of that industry can be a great choice. If you're looking for a city experience, it may not make much sense to consider programs in more rural areas or college towns, and vice versa. If you HATE snow and it would ruin every day for you, consider a program in the southern half of the country.
Likewise, although the cost of your program will impact your extracurricular activities (and your relative level of stress throughout your studies), resist the urge to make your decision solely based on finances.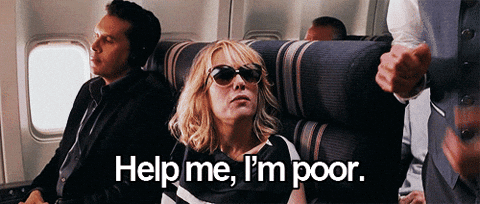 Going to graduate school is an investment in yourself, and one you should ONLY make if you feel that it will benefit your future net worth (otherwise you're giving up a few years of potential income AND paying tuition for no future benefit). Thinking of this as an investment in yourself that will pay off in the future, it's OKAY to pick a program that isn't offering you the best financial package if you think it's the one that will lead you to the best career opportunities. That might be an unpopular, but you're (likely) only going to grad school once and it's important to make the most of your experience.
Long story short

: location and cost will affect your experience, but these factors should be considered as a means to break ties between programs, NOT as a first filter.
2. Don't treat the decision like you're picking your undergrad program.
Grad school is not College 2.0. Your school selection should be hyper-focused on your particular program. Unlike college, this isn't a time to explore your options so make sure the programs you are considering excel in your area of focus and will lead you to your dream career.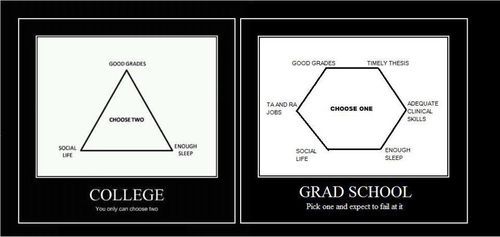 Realistically, you won't have much time to enjoy many of the things that make your school a great undergrad institution (think sports, on-campus events, etc) since you'll be in a grad school bubble with your own jam-packed agenda. Think about what makes it a great grad program specifically, like resources and funding available to graduate students, annual events or conferences in your field, a supportive learning environment, accessible professors, strong connections with potential employers or great on-campus recruiting opportunities etc. If you can make it to a big sporting event while you're there, great, but don't let the university as a whole sway your decision about your specific program.
3. Know the difference between

what you want

and

what you think you should want

.
Repeat after me: rankings aren't everything**. **
Not only are they not everything, they all use VERY different, often subjective methodologies to compare schools that may be very different than your own. Additionally, these rankings often represent programs on the broadest levels and don't take into account how a specific program performs in your particular area of interest (because, remember, you're hyper-focused this time around). For example, the best program in the country for Physics may not be the best program in the country for Astrophysics.
You know yourself better than anyone — listen to what your heart is telling you. In making my final choice of graduate schools, a lot of people tried to tell me to choose the Ivy League program to which I was accepted. By certain standards, that's what I SHOULD have wanted. But, I got to the bottom of many pages of "Pros and Cons" lists only to realize that, at the end of the day, this decision was MY experience and I had to listen to my gut and acknowledge what I REALLY wanted.
4. Ask yourself how a program treated you and made you feel while they were trying to woo you because that was "their best foot forward".
Without getting too fluffy and unacademic, think back on how different programs made you feel. Remember that graduate programs do not exist without graduate students in them (**read**: they should be making you feel wanted once they've accepted you). Whether you've visited in person or just spoken with professors or students via email, different programs will likely give you different vibes. Though not quite as tangible, this X factor IS worth paying attention to; programs likely put their best foot forward to attract you to their program. So, if their best wasn't that great, it may only get worse in terms of the attention and resources they provide you if you enroll.
5. Lastly, don't be afraid to
NOT

choose.

No one likes choosing between bad and not-much-better, so don't. Seriously. Imagine you're on the finale of the The Bachelor (or Bachelorette) left with two options you don't love – would you still choose one of them just because you had invested so much effort and time in getting to that point?

NO! No, no, no. You would not sign up for a lifetime of unhappiness because of sunk costs. And Brad Womack broke all the cardinal rules of The Bachelor just to prove it to us in Season 11. If at the end of the whole process you don't love your options, you don't have to go to grad school this year!

You can reapply next year or the following and end up much better off. (And yes, Brad also proved this by coming back in Season 15 to give it another shot).  

All (Bachelor) jokes aside, you REALLY do not have to pick between two bad options. This is a huge life investment of both time and money, and if at the end of the process you don't feel any of your options are the right one, just say "No" and consider reapplying in the future.
At the end of the day, there are a million ways to look at your options. We know this list is by no means exhaustive, but we hope it helps you frame your decision and make the best one for you. We wish you all the best!